01 Aug

A woman peers out of the window

The windows have something that magnetizes us. The windows take us back to them again and again. We close them, open them, fill the rooms with their constant flow of variable light. We breathed the lost nights through the windows. The rooms have a view. The blinds to our inner courtyards. The fascination with windows is a recurring theme in pictorial work, especially that associated with women and the study of their psychology. If we approach this and analyze its evolution over the last few centuries, we can find a priceless testimony of the sociocultural transformation of women.
Annunciation. Around 1480-1485. Lorenzo di Credi
During the long sequence of centuries dominated by classicism, female iconography regarding the window was impregnated, of course, by the continual mythological and religious references that, coupled with the tendency of the monarchies and states to spread, gave little Space to psychic exploration. Thus, among the earliest representations in this sense, the Annunciations of the Italian Renaissance, such as those of Fra Angelico, those of Filippino Lippi or Lorenzo di Credi stand out. In them, the window is more an excuse to play with the illuminations of the scene, and the woman does not seem to show any restlessness towards her.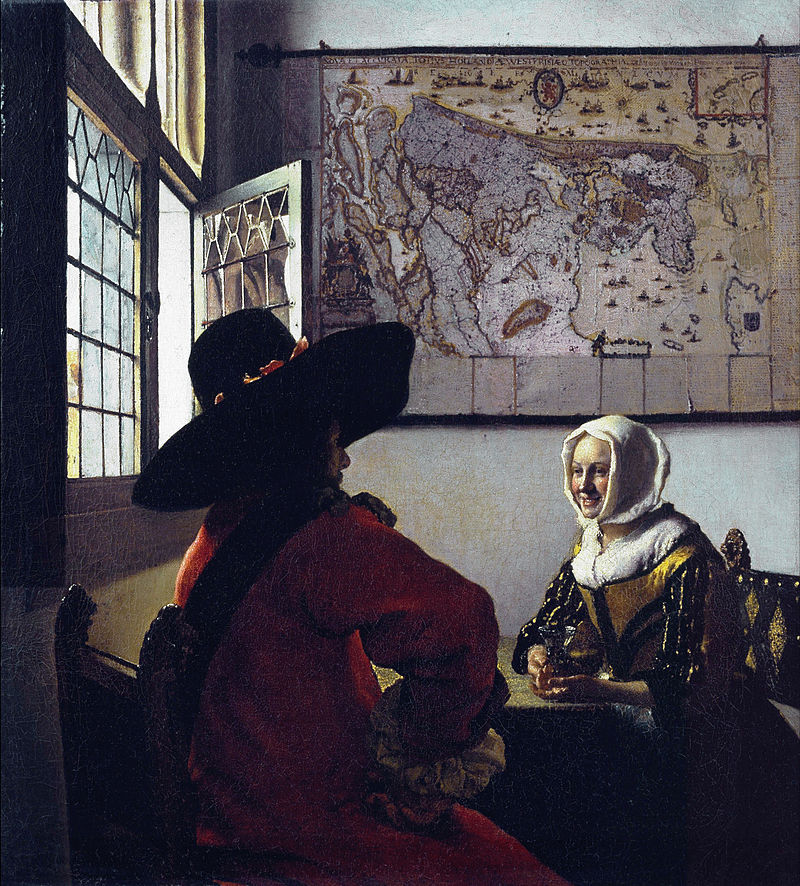 Military and girl laughing. 1658. Johannes Vermeer
Already in the Flemish painting of the seventeenth century we continue to find that approach of the woman to the window as a symbol of their containment, their chastity and their purity. This is the case in works such as Rogier van der Weyden's, evolving into performances such as Johannes Vermeer's Military and Girl Laughing (circa 1658), or Pieter Hooch's Mother and Daughter Peeling Apples (circa 1663). What seemed to be an element of the setting becomes a component of separation from the outside, where the daily life of women's domestic work acquires intimate and reflective nuances that will be developed later with Chardin, Bonnard or Matisse himself.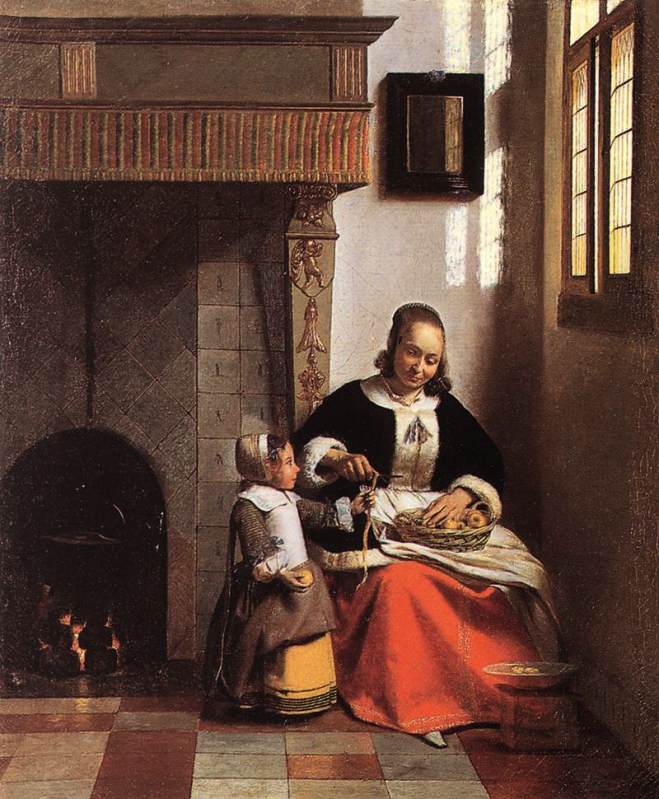 Mother and daughter peeling apples. Circa 1663. Pieter de Hooch
But it will not be until the first quarter of the nineteenth century, and especially through the work of Friedrich, Woman looking out the window of her study (1822), when the iconography of women and their communication with the outside, beyond the Walls, become a traditional theme in the art studio. The work, with the elements of romanticism, entails as a novelty that of lifting the feminine figure of its comfortable space of lethargy and introspection, to face it directly and facing the outside. Through its careful geometric composition of right angles, the vanishing points push us towards the outside, where the mast of the sailboat could well symbolize the idea of transit and exploration. Even the wrinkles and the color of the protagonist's costume seem to drag us into a desire to escape.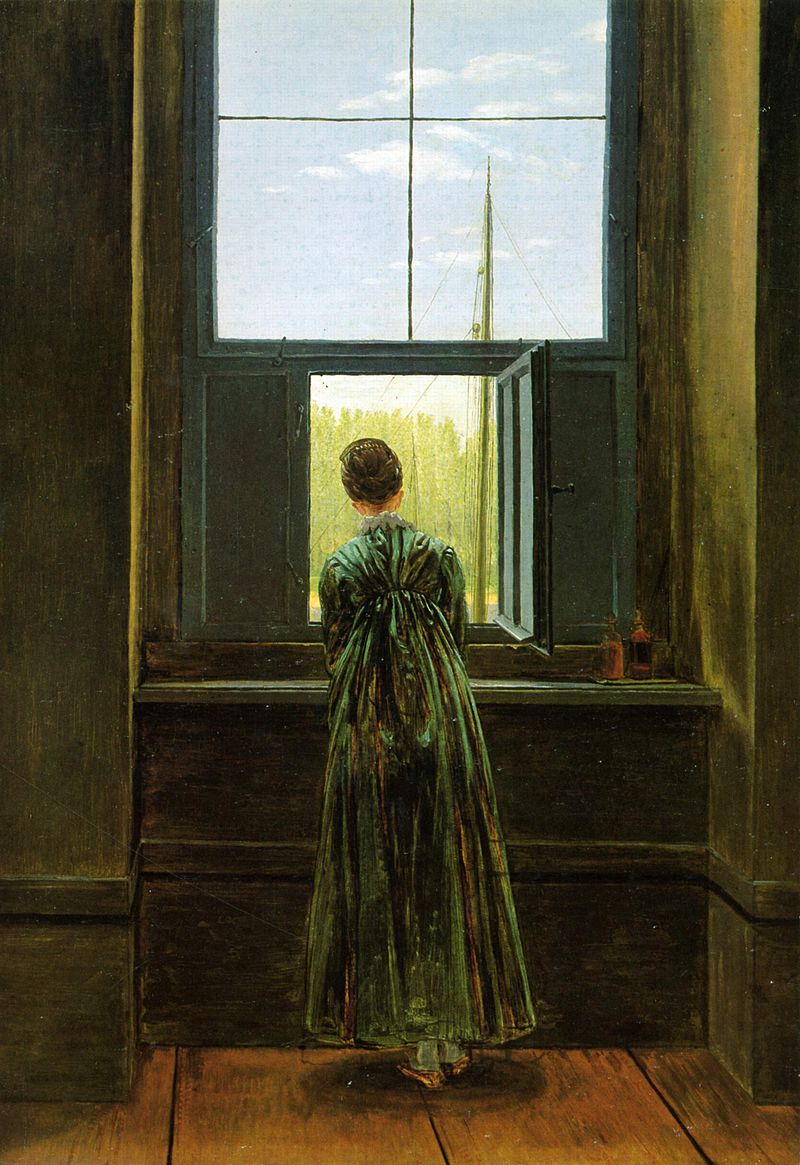 Woman looking out the window of her studio. 1822. Caspar David Friedrich
Thus, the 19th century awakens the woman from her classic virgin and monastic image, also from the traditional vision as a protagonist reduced to the domestic occupations of the seventeenth and eighteenth centuries, inviting her to know and discover the mystery that surrounds the outside, to Through what had always been there: the windows. The subject will be treated again and again even by the avant-garde movements, without going any further by Salvador Dalí who, in 1925, also left his particular vision of the surprising independence and evasion that occurs when a woman looks at the world since The window, with his work Girl in the window. The twentieth century will come later and modernity will have largely satisfied the desires of exploration. The woman will face the real enigma of the windows: both outside and inside, we remain locked, as in a painting by Edward Hooper, between the solitude of ourselves. I wrote Cavafis, and despite the windows: "Without realizing it, I have been locked out of the world."
Please follow and like us: